We start from brushing up your personality
to make people beautiful.
U3 nail school supports your dream to become a nail technician.
Not just acquisition of reliable technique to become professional nail technician right after graduation, we consider practical education and experience is also important which will be connected directly with employment. We will do our best to make your dream come true by brushing you up as professional of beauty.
FEATURES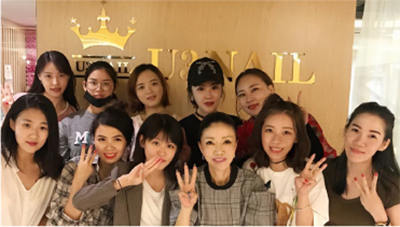 Reliable and trustworthy JNA (Japan Nail Association) accredited school that supports you acquire professional techniques.
U3 Nail School is Japan Nail Association accredited Nail school. We provide curriculum, instructor, and facilities to train professionals with advanced knowledge and skills. We support your dreams come true with small group lessons and flexible lessons you can chose from depending on your private schedule.
COURSE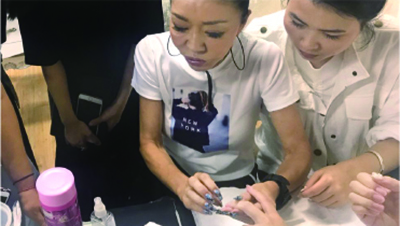 Various courses for each one's various purpose.
We provide various courses that matches with different purposes, not only beginners who wants to become a professional nail technician, but also for people who aims acquisition of JNA certificate and other qualifications, graduates from other nail school who wants to skill up, acquisition of various nail art for nail technicians who wants to open their own salon.
SUPPORT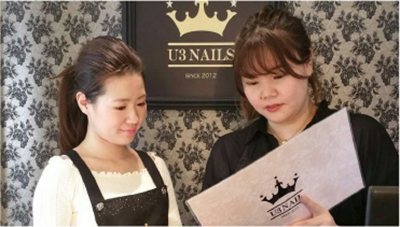 Practical support to become professional nail technician right after graduation.
Our unique and attractive system is on-the-job training in our U3 Nail Salon. You will learn practical skills that can be used right after graduation, by experiencing in a real nail salon, under the tutelage of nail salon staff.
We also lecture management knowhow that is necessary to open and run a nail salon.
We support your wide broad path as a nail technician.
INSTRUCTORS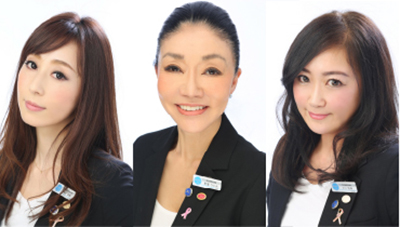 Top class instructors who play an active role in front line.
Good role model with excellent knowledge and experiences.
All of the instructors in U3 nail are JNA certified master educators who is experts at training professional nail technician, and is also professionals that plays an active role in nail salon, magazines, advertising business and other various fields. Not only learning knowledge and techniques, but you will also master advanced practical skills from a close role model with wealth of knowledge and experiences.